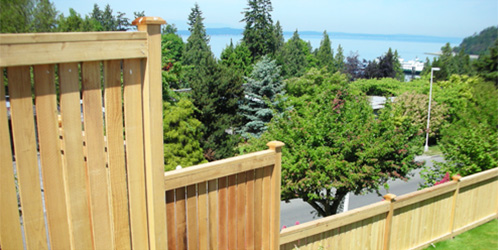 Building Better Fences
When choosing our team here at Alpine Fence Co., you make the decision of hiring a quality contractor that uses only the best materials. We pride ourselves on the high level of skill, devotion, and elegance we implement across each and every job we take on. We've dedicated ourselves to serving Seattle with our excellent service and have been in the business of "Building Better Fences" since 1970. Our professionals provide free estimates and have the skills necessary to meet your fencing needs. We also carry an extensive range of materials for do-it-yourself residential and commercial fencing needs.
CLICK HERE for a map showing the areas we serve.
Bonded and Insured
Here at Alpine Fence Co., we are 100% bonded and insured. Our State Contractors Registration number is ALPINFC021CB. Alpine Fence Co. is also a member of the American Fence Association and Master Builders Association and proudly participates in the Better Business Bureau Reliability Program. When working with us, you can be assured you'll receive quality work every time. Give our team a call or send an email now for your free estimate.
CALL US NOW FOR A FREE ESTIMATE!
206.248.1310
Or Email Us at Fences@AlpineFenceCo.com
Your Quality Fencing Company in Seattle, WA
Since 1970, Alpine Fence Co. has been providing fences to commercial and residential clients across the greater Seattle area. We use only the highest-quality materials and time-tested techniques to ensure the region's finest fences, no matter the size or style. Our team is highly experienced and ready for any job, commercial or residential. We stock a wide range of materials, ensuring you get the exact fence you need. Our services include quotes, materials supply, and installation. With our team here at Alpine Fence Co., you can count on finished products that are elegant, affordable, and sturdy. As we are members of esteemed national fence associations, you can always rely on us for a job well done. Give us a call today at (206) 248-1310 for your quote and we'll get started on your project right away.
Residential and commercial fencing styles
For over 40 years, Alpine Fence Co. has been a loyal contractor for residential and commercial jobs in the greater Seattle area. With our experience, skills, and equipment, we are able to design and install a wide range of fence styles, including:
Chain link chain – Link is an economical option that comes in a variety of colors to enhance your home.
Wood – With a variety of styles to choose from, you can find the style, privacy, and security that you're looking for.
Ornamental iron – Ornamental iron is available in many classic styles and colors that will provide your home or business with security and elegance.
Specialty – To satisfy your unique style, we can custom make any fence or gate you wish.
Commercial – Crafted with strong industrial materials, our commercial fences are the ultimate in property protection and professional.
Serving Seattle, WA, and the surrounding communities
Based in Seattle, WA, we proudly serve areas across western Washington State. If you're in need of an excellent fencing contractor in the region, our team is the one to call. The communities we serve include:
Seattle
West Seattle
Bellevue
Mercer Island
Kent
Auburn
Tukwila
Des Moines
Burien
Sea Tac
Renton
Federal Way
Get the perfect fence today; call us at (206) 248-1310!